Good times
At last, after 8 hours of traveling by bus, we arrived in Genesis Terminal in San Fernando City, La Union. We had our late lunch in an eatery in front of the terminal. I had Dinakdakan, LU style (Php35 /saucer) and a cup of rice (Php7-10). The price is not bad for a decent and delish meal. I couldn't wait to get to our destination. The beach..! (How to get here)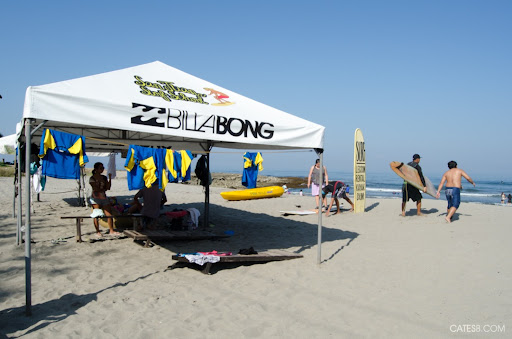 Everything in the beach looks the same. Luke Landrigan and his dog was here. It was a long weekend and theres more people. Waves were about 3 to 4 feet during the morning. Definetely higher than the last time we were here (April 2012).
Blue Crush
Since it was already late in the afternoon when we arrived, we decided to surf the next day. I had a surf instructor with me because I want to learn how to choose the right wave to paddle. Hopefully, after a few lessons or so I'll be confident enough to catch a wave on my own.
A surfboard hit the top of my head real hard. Good news is there was no blood involved, just tiny cuts on my feet. It is just now that I realize that surfing may seem fun, enjoyable and safe sport but there are risks involved and there are safety precautions that must be followed. I was hit twice, in my head and neck, now please remind me to never let go of the surf board when confronting powerful waves and never jump in front of it when wiped out.
I got scared (just like Kate Bosworth in Blue Crush hahaha) but I managed to forget all about it and just continue surfing. Surfing is fun, it's exhilarating. And from what I know, if you have never been hit in the head by your board, you can't call yourself a surfer. hahaha. In fact I wanted to plan a trip and come back right away to take advantage of the surfing season which is from October to February.
Toppet was not able to surf because of his sprained ankle. We agreed that we'll go back and make sure he's ready to surf. It's going to be a tradition to go back here at least once a year, let me know if you want to come. 😆
Stoked!
The laid-back lifestyle of locals is perfect for a beach bum like me. This is what gets me. I know it's my third time now but I can't just give up the drinks in the bar. Is there anything similar to this in Baler? I want to go 🙂
We grabbed a few drinks and hung out at San Juan Surf Bar and Restaurant. We had mojitos (Php130) beer (Php45), jagermeister (Php70/shot) and that yummy pork sisig (Php190). That means the cheapest way to get a little wasted is to get the jagermeister bottle at Php1,200.00
There are budget friendly eateries (along MacArthur Highway) that offers yummy and delish food to fill you up during lunch and dinner. There's homemade Dinakdakan, Igado, Adobo etc. (Php35-45/saucer) and rice (Php10). All the more reason to go back! Oh yeah.
We also tried Lola Nanny's isaw (Php10). They offer grilled liempo and chicken wings (Php80 with rice) too. Lola Nanny's is just located near Sebay Surf Resort, all you gotta do is just walk around and you'll find something new and interesting.
Where did our money go?
This is based on a 3-days/2-nights stay. More or less we spent Php3,000 each and we survived. We slept soundly in our beds in an air-conditioned room.
| | |
| --- | --- |
| | |
| Accommodation (3-days/2-nights) | 800 |
| Bus fare (Pasay to San Fernando) | 445 |
| Bus fare (San Fernando to Pasay) | 445 |
| Jeepney (Genesis terminal – San Juan) | 8 |
| Jeepney (San Juan to Genesis terminal) | 8 |
| Food (per meal) | 45 – 150 |
| Mineral/Distilled water (per bottle) | 28 |
| Beer (per bottle) | 45 |
| Jaegermeister (per shot) | 70 |
| Surf lesson with board (per hour) | 400 |
| Surf board rental (per hour) | 200 |
| Surf board rental (half day) | 500 |
| Surf board rental (whole day) | 800 |
Here are some of our photos (in no particular order)
Now, it's time to read. How to wipe out properly  and Surfing 101